DEAR STREET FOOD FANS,
we would like to thank hundreds of thousands of European Street Food Festival visitors in all of Austria and are happy to announce our 2022 tour dates.
European Street Food Festival 2022
Quality is held high when the promoters of the EUROPEAN STREET FOOD FESTIVAL invite to international culinary delights!
The EUROPEAN STREET FOOD FESTIVAL has been on tour since the middle of November 2015 and was able to welcome 2.5 millions of guests! There has not been any comparable tour project. The EUROPEAN STREET FOOD FESTIVAL has set new standards when it comes to "Street Food". The variety and selection of various meals and also the quality of the food freshly made on site is unique.
Behind the concept there is show producer and catering professional Jochen Auer and his team of the Stage Culinarium Catering GmbH. Stage Culinarium has been catering the crème de la crème of international show business for aprox. 18 years. Stage Culinarium has conducted more than 4500 caterings by now and its illustrious reference list contains, besides thousands of other superstars, the likes of The Rolling Stones, Paul McCartney, Depeche Mode, Pink, Metallica, Lady Gaga, Black Sabbath, KISS, Guns n' Roses, Justin Bieber, Elton John, Iron Mayden or also STS and Andreas Gabalier.
Jochen Auer is the producer of Europe's most successful tattoo show – the WILDSTYLE & TATTOO MESSE – and he is an absolute professional when it comes to the realization of shows, fairs, markets and festivals. Over 2500 events and about 600 trend fairs Jochen Auer has produced and realized Europe-wide in the past 29 years and his Wildstyle & Tattoo Messe has been on tour for 27 years now. More than 2 million visitors make Wildstyle the undisputed market leader in all of Europe!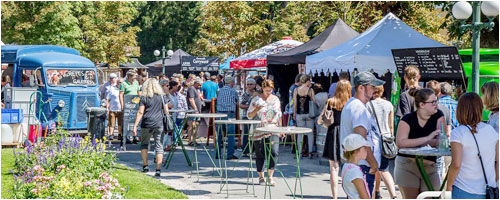 "Delights from all over the world"
is the subtitle of the "European Street Food Festival"!!
And this slogan is lived and experienced during the festival weekend by the promoters as well as the visitors!!
Dozens of food trucks & cooks & exhibitors from all over the world offer treats from around the world at the European Street Food Festival. No matter whether it's Asian or Thai, Indian or Maori Steak from New Zealand, cooked or grilled, specials from the smoker, healthy from the bio corner, vegetarian and vegan, cupcakes, crepes or of course delicacies from national cuisine – they are all offered by the many exhibitors from home and abroad, freshly prepared on-site – as usual for "street-food"!
Visitors can stroll from stand to stand and treat themselves with small bites one after another and enjoy the meals from all over the world…and this, more or less in their own home. Besides well-known delicacies, extra ordinary recipes and exotic delights belong to the highlights.
Starters, soups, snacks or main courses or desserts – whatever the culinary heart desires! Gourmets and those who want to become such, young and old, are fascinated by the varied offer.
To add to the multitude of high quality food stands, various drinks in diverse varieties are offered.
Many metropolises can't be imagined without STREET FOOD – no, actually street food has become a part of everyday life at our latitudes – just like going to a restaurant.
With the EUROPEAN STREET FOOD FESTIVAL this trend now also comes to Austria nationwide and will shortly treat visitors with delights from all over the world!!
• FREE ADMISSION •
OPENING HOURS: SATURDAY: 11am - 10pm / SUNDAY: 11am - 8pm
European Street Food Festival
2 & 3 April - Kirchdorf a. d. Krems - Innenstadt
European Street Food Festival
9 & 10 April - Asten - Marktplatz
European Street Food Festival
16 bis 18 April – Stockerau - Rathausplatz
OPENING HOURS:
SATURDAY: 11am - 10pm / SUNDAY: 11am - 10pm / MONDAY: 11am - 8pm
European Street Food Festival
23 & 24 April - Liezen - Hauptplatz
European Street Food Festival
7 & 8 May – Wr. Neustadt - Arena Nova
European Street Food Festival
14 & 15 May – St. Pölten - VAZ
European Street Food Festival
21 & 22 May – Vienna - Stadthalle
European Street Food Festival
28 & 29 May - Völkermarkt - Hauptplatz
European Street Food Festival
4 - 6 June - Gmünd - Schubertplatz
OPENING HOURS:
SATURDAY: 11am - 10pm / SUNDAY: 11am - 10pm / MONDAY: 11am - 8pm
European Street Food Festival
11 & 12 June - Strasshof - Messeplatz
European Street Food Festival
18 & 19 June - Melk - Löwenpark
European Street Food Festival
25 & 26 June – Zeltweg - Freigelände Sportzentrum
European Street Food Festival
2 & 3 July – Maishofen - Parkplatz Zentrum
European Street Food Festival
9 & 10 July – Seekirchen - Zentrum
European Street Food Festival
16 & 17 July - Eisenstadt - Fußgängerzone
European Street Food Festival
23 & 24 July – Wels - Stadtplatz
European Street Food Festival
30 & 31 July – Mistelbach - Hauptplatz
European Street Food Festival
6 & 7 August – Weiz - Europa - Allee
European Street Food Festival
13 & 14 August – Horn - Festgelände
European Street Food Festival
20 & 21 August – Salzburg - Volksgarten
European Street Food Festival
27 & 28 August – Bad Ischl - Kurpark
European Street Food Festival
3 & 4 September - Braunau - Oberer Stadtplatz
European Street Food Festival
10 & 11 September – Wolfsberg - Bleiweiß Parkplatz
European Street Food Festival
17 & 18 September - Berndorf
Parkplatz zur Marien-Promenade
European Street Food Festival
24 & 25 September - Mattersburg - Veranstaltungsplatz
European Street Food Festival
1 & 2 October – Köflach - Innenstadt
European Street Food Festival
8 & 9 October – Deutschlandsberg - Hauptplatz
European Street Food Festival
15 & 16 October – Ternitz - Stadtplatz
European Street Food Festival
22 & 23 October – Linz - Tabakfabrik
European Street Food Festival
29 & 30 October – Salzburg - Messezentrum
Contact:
Stage Culinarium Catering GmbH
Salzburger Straße 76 • A-4820 Bad Ischl
Tel.: 06132 24685-14 • Fax.: 06132 24685-20
E-Mail: office@stage-culinarium.at • www.stage-culinarium.at